Nora Berman
Sparkly22Miracles

Los Angeles | October 24th - December 7th 2020
Press: ARTFORUM


October 12, 2020
Statement of Facts That Are True, Today
1. The names Nora Berman, Sparkly22Miracles, Harpreet Shanti Kaur, Draedalix, Kayla, and Dr. Panacea the Quack are vessels in a constellation. They are all Nora Berman and not Nora Berman at the same time.
2. Each name is a cup that exhibits its own unique shape, frequency, and time. They are the keys to communicating with the multiverse.
3. I have nothing to gain from looking through the lens of being who or what a person or thing is; I have everything to lose. I engage in a process of conscious self-destruction as a way to constantly reincarnate while living.
4. Through multiplicity I safeguard the secret nature of my practice. Different doors open at different times. Entry depends on sincere wanting.
5. My project as a creator encompasses many forces that work together. Painting is the most obvious driving force, but it is one part of a larger configuration of expressions. A "Nora Berman" painting cannot exist without a performance by Sparkly22Miracles, and so on.
6. The "body" of Sparkly22Miracles is an effect, created by a cause. A consequence of artificial light, a confusion of boundaries. The cause is defined by my conviction to honor the abundance of miracles, and the effect is an energetic relationship to what I value.
7. In being Sparkly22Miracles, what's in the name, appears. Miracles. Miracles. Miracles. Miracles. Miracles. Miracles. Miracles. Miracles. Miracles. Miracles. Miracles. Miracles.
8. I am slippery. In my world, we don't walk, we get around sliding on saliva.
9. Art functions in a similar way to sex, and to miracles. It is a pathway for the impossible to become possible. When I'm in it, I overflow, and you're welcome to come, the only prerequisite is a sincere desire to get wet.
Nora Berman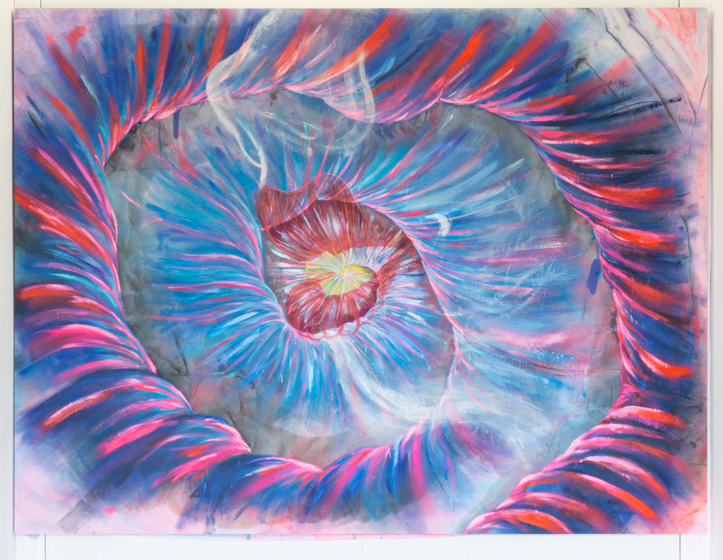 Nora Berman
(b.1990, Los Angeles) holds a BFA from the University of California, Los Angeles and MFA from Kunst Institut Academy of Art and Design, Basel, Switzerland. Solo and two-person exhibitions: Le Maximum, Los Angeles (forthcoming), Downs & Ross, New York, Weiss Falk, Basel; Ellis King, Dublin. Selected group exhibitions: High Art, Paris; dèpendance, Brussels; Kunsthaus Baselland, Basel; Kunstmuseum St. Gallen, St.Gallen; Longtang, Zürich; Mickey Schubert, Berlin; Irish Museum of Modern Art, Dublin; Honolulu, Zurich; Ellis King, Dublin; Charlie James Gallery, Los Angeles; Isabella Bortolozzi, Berlin; Marta Herford Museum, Herford, Germany; and Château Shatto, Los Angeles.