NADA MIAMI EMMAGRAY HQ BOOTH 5.09 2022
CHIMERA
https://www.newartdealers.org/programs/nada-miami-2022/visitor-information

MIAMI 2022 November 30th - December 3rd
Ice Palace Film studios FL



This booth comprises four artists whose work has 'chimeric' qualities, where all of the artist's work reveal dualities, both in the psychological sense but also often using two connected figures and frequently the other half of their being is an animal/mammal.
London based artist Alicia Reyes McNamara whose work was recently shown in the Whitechapel Triennial in the UK comes right up against this within her own skin as she is half Irish and half Mexican. In many of her paintings, she calls upon her family folklore stories on both sets of her ancestral makeup, expressing the mixture of historical beliefs and selves she feels inside her. Turtles, snakes and faces merge and beings with extra limbs and eyes fuse and bind her painted mythological figures.
London based artist (formally CA) Morteza Khakshoor who is Iranian, but has inhabited American soil for the last 10 years, playfully explores his own masculinity through the lens of the overbearing power dynamics he witnessed in his youth in Iran, both in the playground, in the media and on the streets. He sees little difference in Male power structures in America and Iran and many of his characters are archetypal. Animals and animalistic dual forms, often enter his universe, where larger than life characters swap faces and merge bodies with animal beings or masked facades.
NYC based Jennifer Sullivan whose diaristic approach to painting often features her cat Queenie , as a kind of altar ego, says her paintings originate from a combination of observation, imagination, and memory. Whatever the initial source imagery. For her work at NADA she has made a series of paintings of a girl and her donkey, who seem almost inseparable - they were inspired by the film "Au Hasard Balthazar" by Robert Bresson.
LA based artist, Max Maslansky plays in clay - his sculptures which are brimming with humanoid sea- creatures, like the octopus or the squid. He calls of lot of these creatures Shame-suckers. Vessels and heads, plates and platters serve up himbo's and merman fishes looking for communion with a wordless underwater.
Within a turtle shell, 2022,
 16 x 20 inches, oil on canvas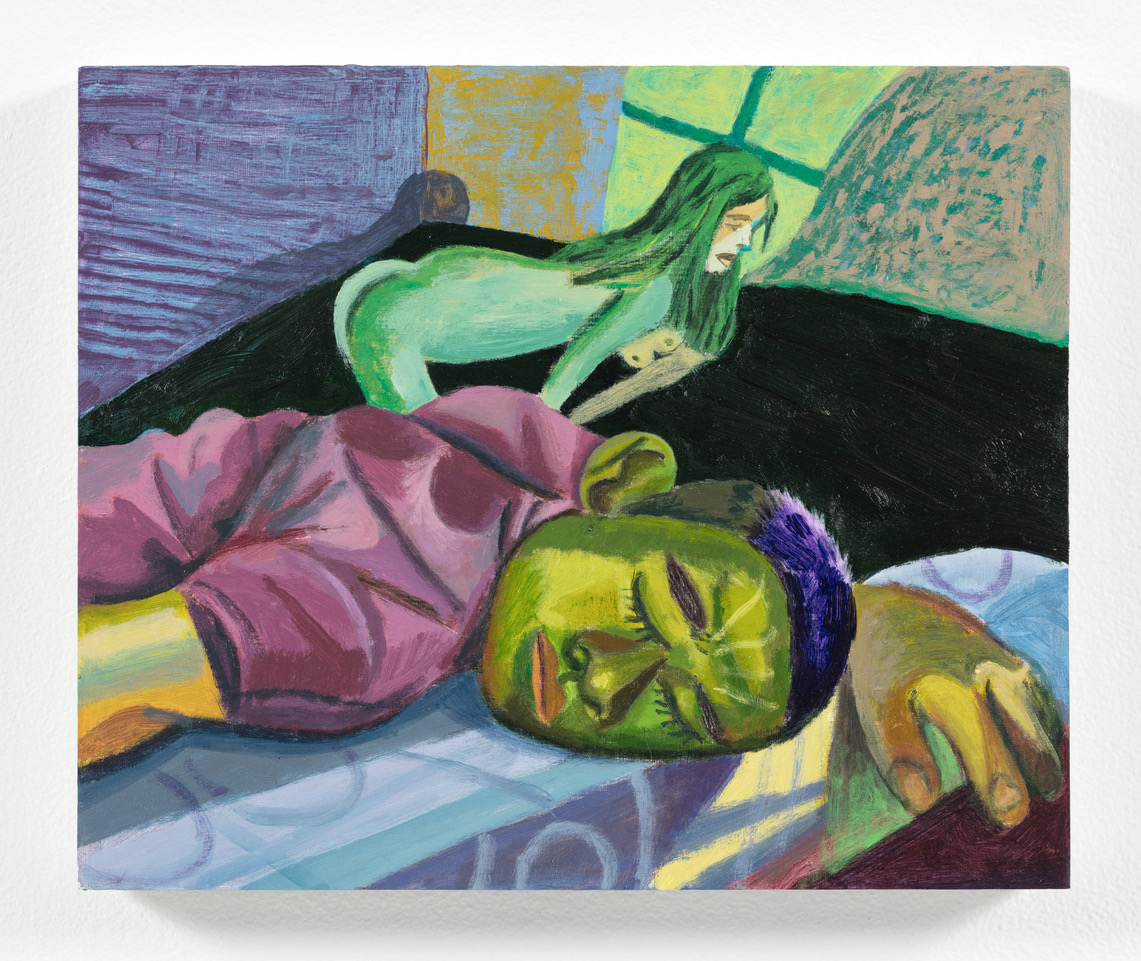 Afternoon, Acrylic on panel,
 12 x 14.5 inches, 2022,
"Stubbly Numbness"
 Acrylic on canvas 11 x 15"
 Max Maslansky "Obstructed 
Shame-Eating Sea God," 2021
 glazed ceramic,17 x 15 inches
Untitled (Blue Hand), 2022, 
glazed ceramic, 12 x 3 (h) inches
Animal Animus 1, 2022 Oil and oil
 stick on canvas25 x 20 inches 
ALICIA REYES MCNAMARA

A guide through, 2022, 
16 x 20 inches, oil on canvas
Slow tide, 2022, 40 x 50cm
 or 16 x 20 inches
MORTEZA KHAKSHOOR
Good Companions in Misfortune,
 Acrylic on panel, 16 x 20 inches

MAX MASLANSKY
Heavy Step, 2022, glazed ceramic 
and paint, 12 x 5 inches 

JENNIFER SULLIVAN
Animal Animus 2, 2022 Oil 
and oil stick on canvas 26 x 22 
inches
Animal Animus 3, 2022 Oil and oil
 stick on canvas 20 x 25 inches
Guardian III, 2022, 37 x 53 inches
, oil on canvas
Pastoral, Acrylic on panel,
 16 x 20 inches
November, Acrylic on panel, 
12 x 16 inches, 2022


Woman and Turtle 10 x 12 inches
 Acrylic paint on used bedsheet
Untitled (Cutting Knife), 2022, 
glazed ceramic, 12 x 3 inches

Animal Animus 4, 2022 Oil and oil 
stick on canvas 25 x 20 inches

Alicia Reyes McNamara completed her MFA at University of Oxford Ruskin
School of Art in 2016. Their work has been included in Bloomberg New Contemporaries (2016). They were awarded the South London Gallery Graduate Residency 2016-17 and her exhibition 'Nowhere Else' was exhibited in the first floor galleries in 2017. She was commissioned to create a project as part of 2018 Communal Knowledge at The Showroom. She most recently was awarded an a-n bursary, a Jerwood Bursary, and the Bloomberg New Contemporaries Studio Residency at Hospitalfield. Recent solo exhibitions at Niru Ratnam Gallery and Lismore Castle Arts. In the summer of 22 Alicia exhibited at Whitechapel Gallery Triennial as part of The London Open 2022 and just finished the Skowhegan School of Painting & Sculpture residency. Alicia is based in London, but spends time between UK and Chicago, where she is originally from.



Morteza Khakshoor (b. 1984 Iran) currently lives and works in London. Hemoved to the US from Iran in 2010 to continue his education in Fine Arts. HeBFA from Lyme Academy College of Fine Arts in 2015 and MFA at The Ohio StateUniversity in 2018. He has been exhibiting his work nationally andinternationally since 2011. Solo exhibitions include 'Forty-One Drawings andPrints', University Art Gallery, California State University (2018) and;'What Has Become Of Your Strength', George Mason Atrium Gallery, George MasonUniversity,Fairfax, VA (2016). Group Exhibition include, 'HumoralTheory', (3-Person Exhibition), BEERS London, UK (2020);'WoolwichContemporary Print Fair', London, UK; 'Art on Paper Fair', The Tunnel, NY(2019) and; 2018 Edition Artists Book Fair (E/AB), New York, NY. He recentlyfinished a residency on Fisher island at theLighthouse works fellowshipprogram and has solo showslined in up in NY,LA and London next year. He istherecipient of many awards, including The Inaugural EmergingArtist Award given at the Editions/Artists' Book Fair (E/AB) in 2018. Hisworks are in several private and public collections, most notably The FordFoundation Center forSocial Justice in New York City.


Max Maslansky continues his examination of the sea and the unconscious asinterchangeable stages of production. Max Maslansky 2006 has an MFA from TheCalifornia Institute of the Arts, Valencia, CA 1999, a BA in Fine Art, BardCollege, Annandale-on-Hudson, NY and a foundation in art in 1998 from theGlasgowSchool of Art, Glasgow, UK. Max has held solo exhibitions in the U.S.and Europe, most recently at Lefebvre et Fils Paris via the residency programand Jeff Gallery in Marfa TX, 12.26, Dallas, Marc Jancou, Rossiniere,Switzerland, and Five Car Garage, Los Angeles.Maslansky has been featured ingroup exhibitions including "Made in L.A. 2014", at the Hammer Museum, LosAngeles; at Fredericks and Freiser, New York, Gavin Brown'sEnterprise, NewYork, and V1,Copenhagen, Spurs Gallery China. He is in the permanentcollection at LACMA, CAA, Axel Springer Berlin and The Gunzberg Foundation.His first monograph, "Used Paintings", including essays by Laura Kipnis andMichael Ned Holte, was published by Not a Cult Press in 2018. He lives andworks in Los Angeles.


Jennifer Sullivan is a painter who lives and works in Ridgewood, Queens. Herpaintings are a diary and a form of psychoanalysis that evolved out ofearlier autobiographical work in performance and video. Recent exhibitionsinclude Sleeper, Turn Gallery, New York, NY (2021), My Pretty Red Heart, HGGallery, Chicago, IL (2020), Devotional Paintings, Julius Caesar, Chicago, IL(2020), Female Sensibility, Emma Gray HQ, Los Angeles, CA (2020), ExiledParts, No Place Gallery (2019). Sullivan has exhibited widely including groupexhibitions at Marinaro, Brennan and Griffin, Rod Barton, NADA NY, and KlausVon Nichtsaggend. Awards include fellowships with Paint School at ShandakenProjects (2020) and the Fine Arts Work Center (2012-13), and residencies atthe Lighthouse Works, Skowhegan, Ox- Bow, and Yaddo. Her work has beenreviewed in the NY Times, Brooklyn Rail, Artforum, and Art Papers.