KYLA HANSEN
Hold Your Own

NEW YORK | March 2nd - March 29th 2023
AT THE GALLERY AT NEW ART DEALERS ALLIANCE
311 East Broadway, 2nd Floor
New York, NY 10002
Gallery open hours : Tuesday - Saturday 1 -6pm

checklist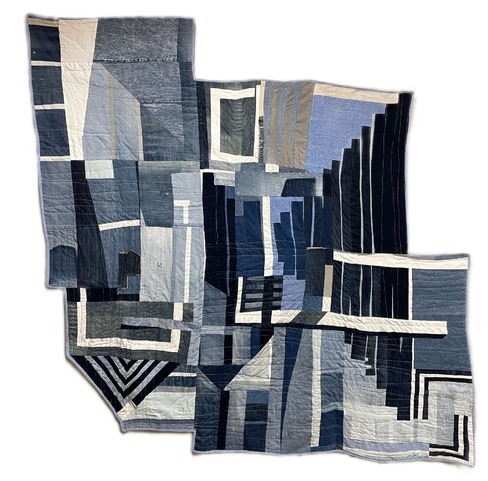 Know The Wolves That Hunt You , 72"x 72",Fabric, denim batting, thread, magnets 2021/2022
Emma Gray HQ is delighted to present Kyla Hansen's "Hold Your Own" at the NADA Gallery in New York. Hansen's installation explores class, labor, gender, production and commodity, using quilting, and found object assemblage. She re-purposes and redesigns her materials to examine cultural narratives surrounding denim, utility and the body in the United States. As the pandemic slowed and changed production, Hansen revisited her upbringing in an ageing town in rural Nevada, dissecting how it shaped her vision of herself and the economies of America in a global moment of introspection.
This work grew out of a personal reshaping of ideas about production and rest. The artist landed on recycled denim (blue jeans) initially for its direct relationship to utility, its conception as a second skin to increase the body's durability, and its lasting presence as an iconic, ubiquitous American fashion staple. Each quilt in this show is made from recycled denim clothing. Their compositional accumulation and density is reflective of rural, class-based aesthetics that the artist was raised around. Piles of found objects for recycling and repurposing collected in yards. Deteriorating shacks, cars and other objects peppered the Western desert landscape which accelerated their wear.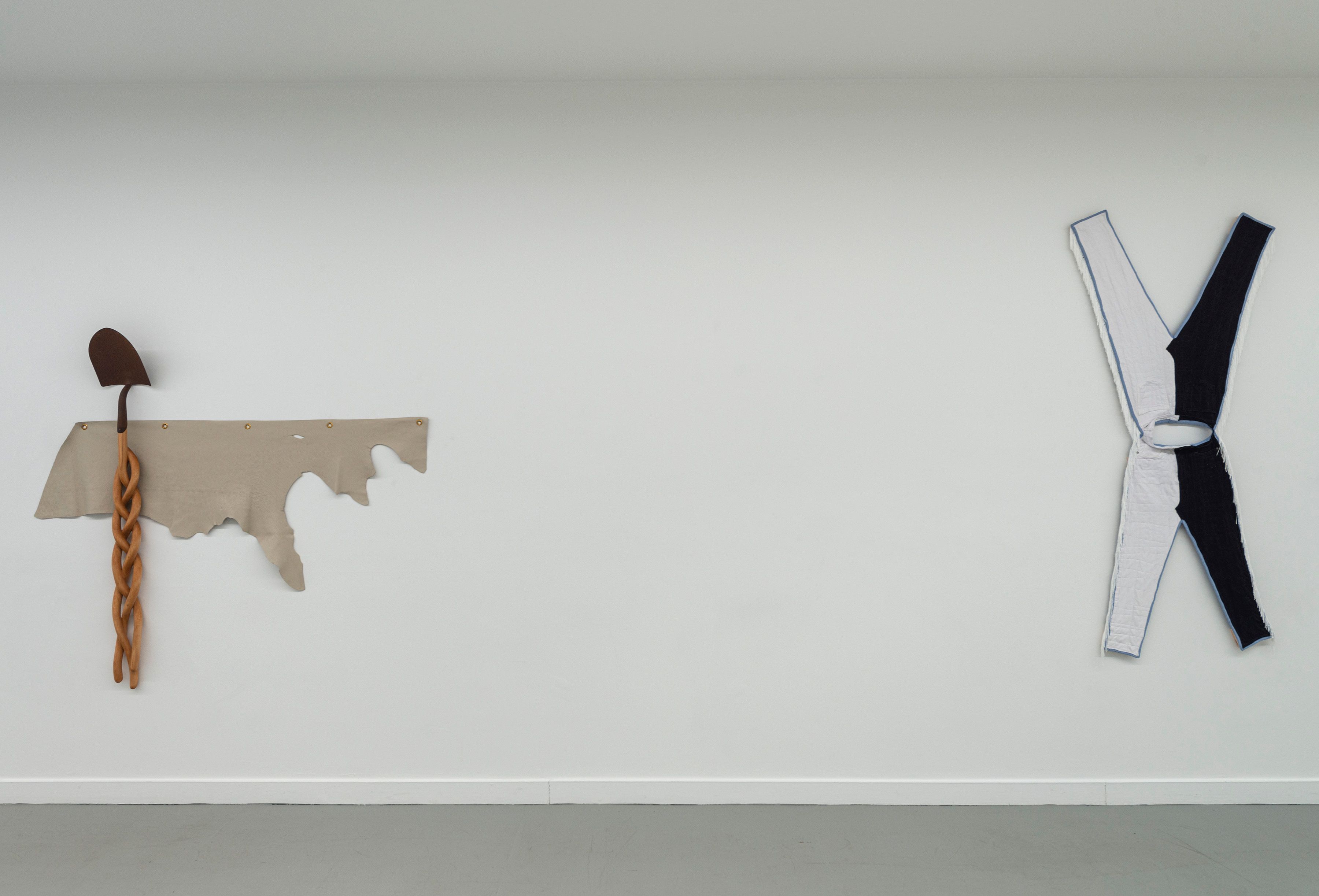 This body of quilts can also read like aerial views of rural agricultural spaces, landscapes organized by production.
Many traditional quilting patterns are based on geometric architectural forms, like the bricklayer, housetop, and log cabin. Hansen takes a playful approach to these traditional patterns, bending lines and warping blocks to mimic the dilapidated rural architecture of her hometown, and the visual accumulation of urban spaces in her current residence, Los Angeles. Throughout her practice, Hansen has found inspiration in the work of artists Mary Lee Bendolf and Loretta Pettway whose unique approach to traditional quilting patterns often evoke the visual textures of Gees Bend. Hansen scatters visual nods to these artists in her compositions.
Each quilt in "Hold Your Own" is structured around a word or phrase that points to personal and national narratives surrounding labor, production, and agency. The words are highly abstracted in these works with few legible letters in shifting scales. By visually deconstructing and abstractly reconstructing written language, these works introduce instability and possibility to areas that we like to think of as static and fixed.
The site of the quilted bedding also implies a personal experience and history of the body. Quilts are made at human-scale to create temporal habitable space. Like denim, they are an emblem of authenticity, housing experiences from the personal (sex) to the mundane (sleep.) Denim as a material, has been socially imbued not only with work, but also with sexual desire through American advertising campaigns, making the denim work-cloth quilt a culturally rich site to explore. Alongside quilted wall works are Hansen's assemblage sculptures, composed of leather upholstery remnants, found shovel heads and hand-carved wooden handles that transform from a singular post into organic braided abstractions. Her surrealist intervention plays with gendered ideas surrounding labor and implies the body through both material and form.
Kyla Hansen
lives and works in Los Angeles, CA. She received he
r Master of Fine Art from Claremont Graduate University in 2012 and her Bachelor of Fine Art from the University of Nevada, Las Vegas in 2009. Her work has been exhibited widely throughout the greater Los Angeles area, including Five Car Garage, Garis & Hahn, Fellows of Contemporary Art, Torrance Art Museum, The Museum of Neon Art, and the Barrick Art Museum in Las Vegas, NV. Her work has been recognized in several publications, including Modern Painters Magazine, LA Weekly, and Art & Cake Magazine.


Written by Artist